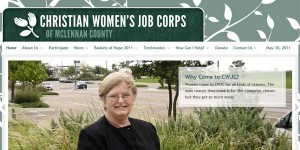 This site just got a whole new look designed by Natalie at NWardDesign.com
We've used WordPress as a content management system using the Genesis Theme framework from StudioPress with the Serenity Child Theme.
Set up online donations and fundraiser ticket sales through PayPal
The staff can now easily upload images for the rotating header or update pages.
This project is special for me because I believe in what they are doing at Christian Women's Job Corps.  I taught basic computer classes here two days a week for many years.